We are thrilled to announce the newest update to the SELFLOOPS Spark app for iPhone and Apple Watch. With this update, we are bringing you a game-changer in health and fitness data management – the ability to seamlessly sync your Apple HealthKit data with SELFLOOPS. Let's dive into the details of this exciting development.
Your Health and Fitness Data, All in One Place
The SELFLOOPS Spark app now enables you to effortlessly synchronize your health and fitness metrics stored in your iPhone and Apple Watch with the SELFLOOPS website. This means that data such as your daily step count, sleep patterns, resting heart rate, and workouts performed using the Apple Watch workout app can be automatically synced to your Selfloops account.
This seamless integration streamlines your data management, providing you with a holistic view of your health and fitness journey.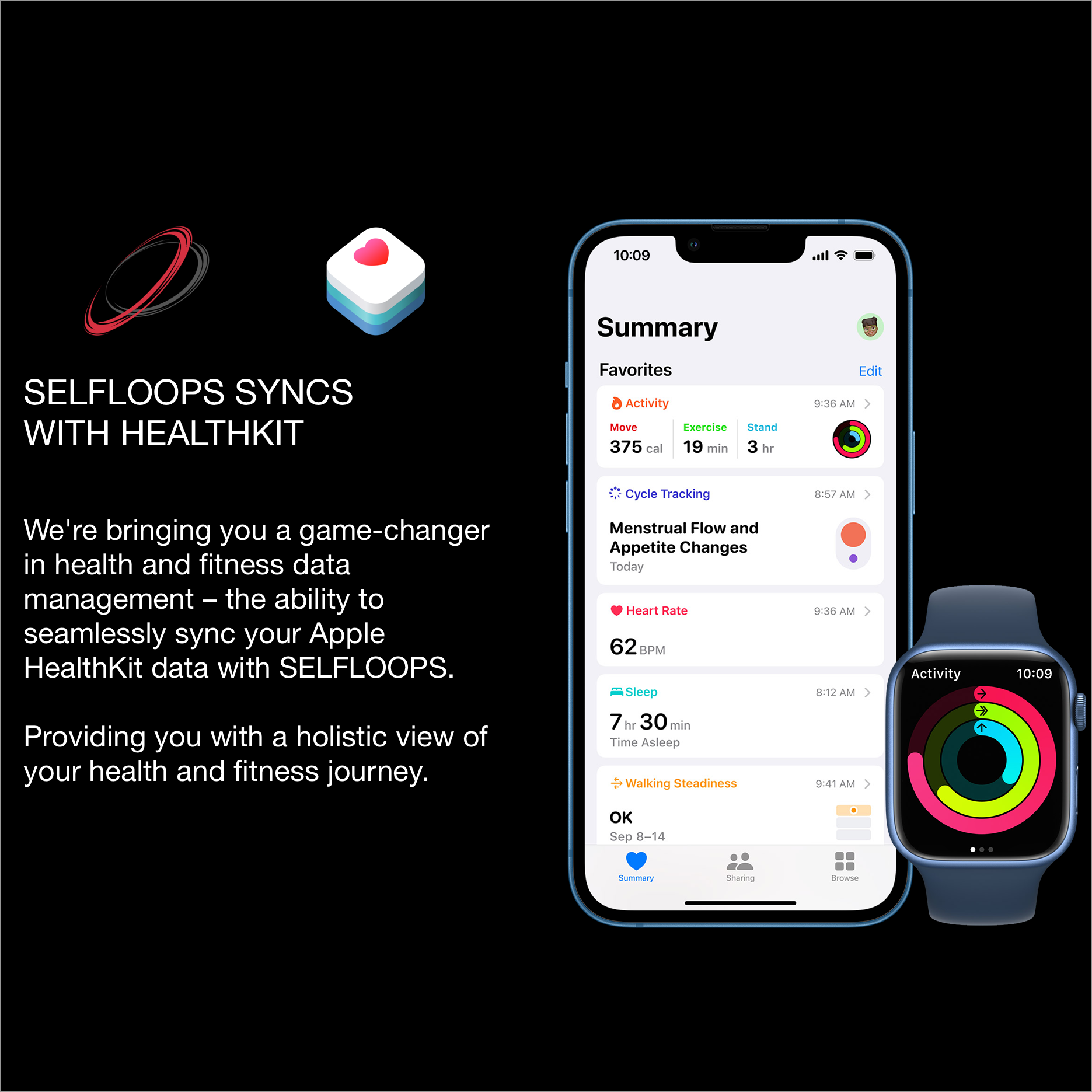 Why is This a Game-Changer?
Data Integration: We are making it easier than ever for you to consolidate your health and fitness information. Whether you are tracking your steps, monitoring your sleep, or recording your workouts with your Apple Watch, all this valuable data will now reside in a single repository – your Selfloops account.
Streamlined Sharing: Athletes, coaches, and fitness enthusiasts will appreciate the enhanced sharing capabilities. This feature allows you to effortlessly share your data with your coach, providing them with the insights they need to tailor your training plan for optimal results.
Future-Proof: Our commitment to continuous improvement means that we are not stopping here. In the future, we plan to add more HealthKit metrics to the list of synchronized data sources. This means that you will have even more comprehensive insights at your fingertips.
How to Get Started
Getting started with the SELFLOOPS Spark app and Apple HealthKit synchronization is easy:
Update Your SELFLOOPS Spark App: Ensure you have the latest version of the SELFLOOPS Spark app installed on your iPhone.
Enable the HealthKit Integration: Navigate to the settings of the Spark iPhone app and select the "Health" option. From there, grant the required HealthKit access rights, then select the metrics you want to synchronize.
Automatic Synchronization: Your health and fitness data will now automatically sync with your SELFLOOPS account. You can access and analyze this data on the SELFLOOPS website.
Taking Your Health and Fitness to the Next Level
With this powerful new feature, SELFLOOPS Spark empowers you to export your data and perform in-depth analysis using the advanced tools available on the SELFLOOPS website (https://www.selfloops.com). Whether you are an elite athlete, a dedicated fitness enthusiast, or simply someone who wants to keep a close eye on their health, having all your data in one place allows for a more comprehensive and insightful understanding of your progress.
At SELFLOOPS, we are committed to helping you achieve your health and fitness goals. With the Spark app and its integration with Apple HealthKit, we are making it easier than ever to track, analyze, and optimize your journey. Stay tuned for future updates as we continue to expand our features, ensuring you have access to the latest advancements in health and fitness technology.